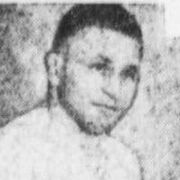 August "Slippery" Sepp was born on January 13, 1887 in Estland, Russia (Estonia), although according to the Social Security Records, his date of birth was January 14. He lived in Salt Lake City, Utah and Denver for a time before moving to the Pacific Northwest.
Sepp worked as a promoter of Carnival Wrestling Shows (Athletic Shows) touring the Pacific Northwest up until around 1960, and occasionally wrestled himself.
On July 4, 1929 Sepp engaged in a mixed wrestling/boxing event against former Pacific Coast Light Heavyweight Champion Frank Farmer at the Northwest Athletic Club, and promptly won when he almost immediately threw Frank to the ground.
He also ran the Sepp Athletic Club in Seattle and was the first Catch teacher of Dick Cardinal.
Sepp died on November 12, 1962, found on a hunting trip near his camper truck at Blewett Pass. He was 75 years of age. He was survived by his wife, Norma, son Noel Sepp and daughter Eleanor DeLong.
Bob Murray bought out Sepp's promotional interests.